November 20th, 2014
The opening night premiere of "Wild" with Reese Witherspoon was sold out, standing room only at the San Diego Film Festival (SDFF). Screening was at Reading Theatres in the Gaslamp. An outstanding screenplay adaptation of Cheryl Strayed's autobiography about her solitary Pacific Crest Trail journey was excellently directed by Jean-Marc Vallee.
It is sure to garner Witherspoon an Oscar nomination for her commitment to roughing it in the woods.
The Pacific Crest Trail will never see the bottoms of my boots because having discovered a recent serious bee venom allergy—the great outdoors looks mighty different to me now.  Particularly, near wildflowers.
Every day of the festival offered world premieres and U.S. premieres of independent and studio pictures both at Reading and the Arclight theatre at UTC. Often, there would be such a conflict for me to choose which ones I could forego or not. Also, the Q & A after some of the screenings added depth and insight into the movies created.
One screening that stood out for me was "The Good Lie". Amazing true story of former Sudanese child soldiers who came to America and asked for asylum.  Again, with Ms. Reese Witherspoon, playing comic foil to the tribulations of these Sudanese exiles.
Best party?
"The Chairman's Reception" (chairman being Dale Strack of SDFF) at the gorgeous La Jolla Contemporary Museum (a star in its own right), a SDFF signature event titled, "Variety's Night of the Stars" .
This event complete with red carpet and movie stars (see photos) honored the always funny and mostly grumpy, Academy Award winner for Best Supporting Actor and North County resident, Alan Arkin. He was present to recieve the Gregory Peck Lifetime Achievement Award which the event awards tributes to veterans in the business.
Jeffrey Lyon moderated and interviewed. Unfortunately, a rogue newscast overshadowed the audio of clips shown throughout the evening's presentation.
His response when I asked Arkin who did he think was funny?
Eddie Izzard.
And some female, I never heard of: Maria Bamford (sp?).
Arkin said she was hilarious, and Izzard: brilliant.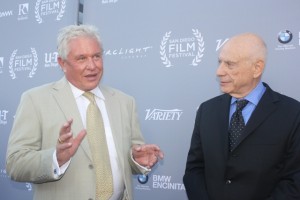 Arkin's favorite Gregory Peck movie was Arkin's first film:
"The Russians Are Coming, The Russians Are Coming".
Berenger was in town to present the Chris Brinker award to John Beaton Hill for his indie, "Wolves of Savin Hill" and a Q & A for "Bad Country". This film was directed and produced by San Diegan Indie Chris Brinker who suffered a sudden demise a few years back and subsequently, the Chris Brinker award was created for indie directors.
Also on the Red Carpet… actors:
Eli Roth (Inglourius Basterds—he stole every scene he was in)
Tom Berenger (Rough Riders—also one of his favorite movies to make)
Michelle Monaghan (Fort Bliss)
Beau Bridges (Showtime's Masters of Sex)
Alison Pill (HBO's The Newsroom)
Saginaw Grant (an excellent feature! The World's Fastest Indian)
Ms. Monoghan revealed she was five months pregnant while filming "Fort Bliss", a film she is very proud to be a part of and was shocked at the prevalent sex abuse in the military. The film was made in 21 days.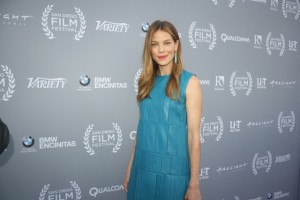 I asked Mr. Bridges where he was putting his award (Cinema Vanguard) which he was receiving that night he quipped, "In the closet". He said one of his favorite movies was "The Fabulous Baker Boys" which also starred his brother, Jeff Bridges. It is one of my all time favorites too. Love, love the music.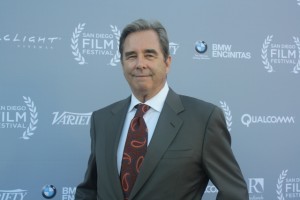 Good looker Josh Duhamel, deep velvet voiced Dennis Haysbert and kind Stelio Savante were in attendance at the Insider's Panel which was moderated by the funny Jeffrey Lyons and his bright son, Ben Lyons . This was a sell-out event at the movie set of a nightclub, Vin De Syrah in the Gaslamp. Cleverly designed to resemble the underground where Alice fell into the hole, guests are always charmed by the whimsical interior.
Below: Dennis Haysbert being interviewed at "Syrah".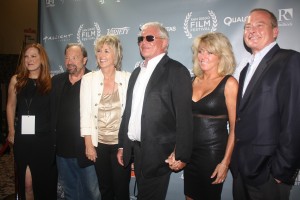 Above photo:
Patti Judd SDFF VP, Dale Strack SDFF Chairman, Tonya Mantooth SDFF talented VP of Programming, actor Tom Berenger and lady friend, Kevin Leap SDFF President.
For all movie buffs, indie enthusiasts, or festing global travelers—San Diego is THE place to screen movies, party hard and play nice!
2014 Competition Award Winners:
Best Narrative Feature:  Where the Road Runs Out
Best Documentary:          Waiting for Mamu
Best International:           Schimbare
Best Narrative Short:       The Bravest and The Boldest
Best Animated Film:        Dam Keeper
2014 Audience Award Winners:
Best Gala Film                   The Imitation Game
Best Feature                        Cas & Dylan
Best Documentary             Waiting for Mamu
Best Short                             Sure Thing
Best International              Noble
Kumeyaay Award:             Sycuan: Our People, Our Culture, Our History
UT San Diego Award:      Where The Road Runs Out
Chairman's Award:           The Hornet's Nest
Well there you have it.  Next year, same sunny place—Get your tickets at www.sdfilmfest.com
Best news of the week?
Mayor Kevin Faulconer said the San Diego Film Commission (SDFC) was going to be resurrected and that San Diego is including the SDFC in its budget. YIPPEE!! San Diego is back in the moviemaking biz. We are on the map.
Red Carpet photographs courtesy of the generous and amazing Suzette Valle of Hollyblogger and The Wrap. I bow to you.
Bad nightclub photograph of Dennis Haysbert with IPhone, yours truly.
Peace and may your Thanksgiving be filled with it,
j
Tags: Alan Arkin, Fort Bliss, Hollyblogger, San Diego Film Festival, The Good Lie, The Russians are Coming, The Wrap, Wild