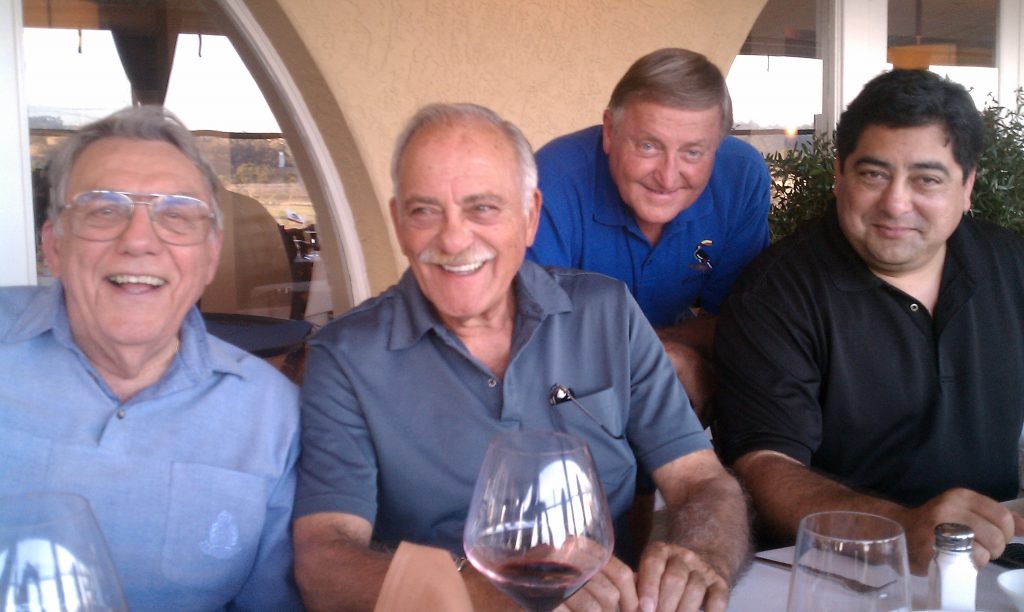 Robert Joseph (mustache)
March 5, 1936 ~ July 25, 2018
You loved the standards sung by Frank Sinatra. Your favorite song was "My Way". I can still remember waking up to Peggy Lee singing, "Is That All There Is?" And Petula Clark. And Neil Diamond. I think you wanted to be Neil Diamond. Those "Hot August Nights" were replayed over and over. You will be happy to know that John is restoring your beloved stereo cabinet from Okinawa.
Escarole was one of your favorite vegetables. Chocolate was a weakness. Traveling the high seas was a passion. Highly intelligent, kind, and sentimental, you gave 33 years to Howard Hughes. I grew up listening to Vin Scully, the Dodgers, and Farmer John bacon commercials on the radio because you were such a loyal fan when they were a Brooklyn team. You adored your mother and your siblings.
Our funniest memory is when my husband asked for your blessing to propose to me as you were walking together. You asked him, "Are you sure?" His answer to you was, "Is there something I should know, Bob?" We still laugh about it. You taught Tom about Bushmills single malt whiskey and you both drank until the wee small hours. You shared your Churchill cigars with him generously as well. You taught us how to play Hand & Foot and was very strict about the rules. I have never won. You hated Scrabble and would rather watch a crappy movie.
Basil the man to your right—was one of your best friends, as was Uncle Paul the man to your left—your younger brother, and your only son, John is to your far right. Your beloved and youngest. I am not at all jealous. Really.
I remember this fun day after the races at Del Mar so clearly. This was an Italian restaurant at the time–one of its many incarnations now inhabited by a real estate company. Like the mensch you were, you picked up the check and wouldn't take a single dollar from anyone. Those were the days. Happy times.
I really miss you. I hope you, mom, Uncle Paul, Grandma Fay, and all of your friends are having a great party up there. Well, whenever you see mom. I'm sure even in heaven, she is probably at the casinos. At least now you won't have to pick her up.
Say hi to Pop Pop (Big Tom). And put in a good word to the Big Guy to continue watching over all of us. He knows more than ever, how much we need His special guidance. That —and/or a giant cattle prod.
xoxoxoxoxoxoxoxoxox
j