San Diego International Film Festival Opening Night film was the very well-received "Marshall" about the first black Supreme Court Justice screened at the beautifully restored Balboa Theatre.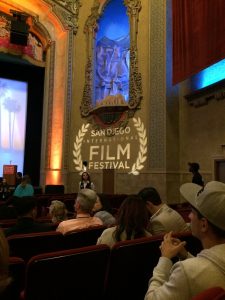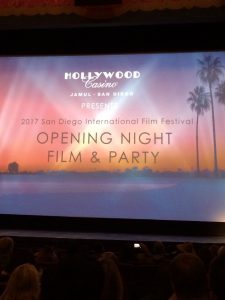 The Opening Night party was at the elegant rooftop Westgate Hotel. Hollywood Casino hosted the party which was replete with casino tables and fabulous showgirls.
One of only six Moet Chandon champagne vending machines in the U.S. is at the super cool Pendry Hotel (base hub and partner with the SDiFF). The photo of the purple jewelry bag below is a sipping flute which fits into the top of a split. A special coin is purchased from a server and deposited into the machine ($16)! Flute tended to drip so design needs to be perfected unless you like wearing the aroma of bubbly. Anyway, I prefer sipping from a glass flute. Much more civilized. Seemed gauche slugging back from the bottle.
Photo below:  Variety Night of the Stars Tribute honored Sir Patrick Stewart with the Gregory Peck Award in the Grand Ballroom @ The Pendry Hotel.
I really missed our usual Tribute interviewer and host, Jeffrey Lyons, NBC Film Critic of more than 15,000 films! — he always has a personal movie star anecdote to share with the honoree and audience that is often so funny and captivating. I wished he interviewed Sir Patrick (My two cents.)
Kumail Nanjiani (The Big Sick) was honored with the Auteur Award and stole the night with his hilarious perpetual off-the-cuff quipping of the word, "auteur"in his acceptance speech.
SDiFF Industry Panels in the absolutely hip Oxford Social Club in the Pendry Hotel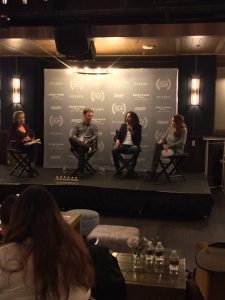 Tonya Mantooth (Exec. Director of SDiFF) serving as Panels Moderator is on the far left.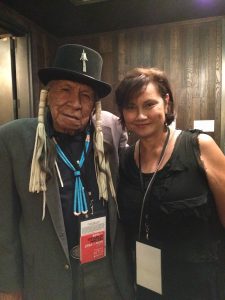 Actor and Hereditary Chief of Sac & Fox Nations,  Saginaw Grant with yours truly.
Buy your SDiFF festival passes today and support the independent filmmakers of the world <www.sdfilmfest.com>.
Happy Christmas and bless those before us, after us and those with us now.
xo, j
Tags: Jeffrey Lyons, Kumail Nanjiani, Marshall, Moet Chandon, Patrick Stewart, Pendry Hotel, Saginaw Grant, San Diego International Film Festival, Tonya Mantooth