Get your passes NOW!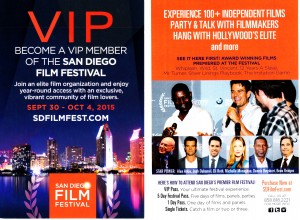 Exciting international and national indie film submissions
are coming in fast and furious from:
Israel
Greece
India
Philippines
Los Angeles
New York
The above mentioned countries and cities are just to name a few. Over 2,000 submissions are being pared down to 100 as I write.
There have been eight films in the previous San Diego Film Festivals that were Oscar nominees (Wild and The Imitation Game –The Imitation Game was also a winner for Best Adapted Screenplay).
And the year before, an Oscar WINNER! (12 Years a Slave). It just keeps getting better and better.
Variety magazine ("the Industry's" bible) has agreed to partner with SD Film Festival again. Guess what?!
That means more great parties, more movie stars, industry professionals AND…more great films.
See you on the Red Carpet,
-j
Tags: 12 Years A Slave, Oscars, San Diego Film Festival, The Imitation Game, Variety, Wild